Trinity Church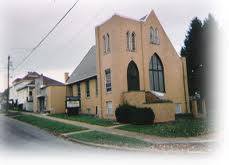 Trinity Church
Located in Historic Vandergrift; We have been serving the community since 1920.
We are an independent reformed church. We believe that God saves us by faith alone, by his grace alone, through Christ alone, revealed to us through Scripture alone, for the purpose of God's glory alone. We believe the teachings and systems of the Protestant Reformation capture and summarize what the Bible teaches.
We are a Christian church, centered on the gospel of Jesus Christ.
We are a family centered church that is open, warm, and friendly. We invite you to join with us.
Contact Information
Franklin Avenue, Vandergrift Heights, Vandergrift, Westmoreland County, Pennsylvania, 15690, United States of America
Website (include the https:// or http://)
Author Info
Webmaster
Member since 3 years ago
View Profile
There are currently no events.