Organized Interiors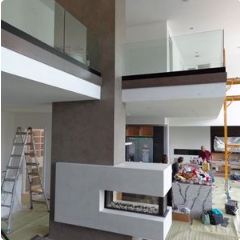 Organized Interiors
Welcome to Organized Interiors, a home-based commercial cleaning solutions business serving Westmoreland, Allegheny, Armstrong, Indiana and Butler counties.   Our expertise in cleaning and organizing came naturally from keeping up with our four boys and all of their activities.
As a team, we possess over 40 years of experience in public and parochial education.  As school administrators our expertise in organizing evolved from scheduling and operating school buildings and school divisions.  Our knowledge of daily institutional cleaning and maintenance was critical to providing a safe and clean environment for the children of the communities we served.   As professionals, we seek to offer our clients the appropriate service at an appropriate price.  To ensure your piece of mind as we service your home or property, we are fully insured and maintain all pertinent clearances- PA Act 34- PA State Police Record clearances, and PA Act 114- FBI Criminal Background clearances.
We offer both standard and custom cleaning solutions for a variety of lite commercial properties.  Our services range from several days per week to weekly, bi-weekly or monthly cleaning.  In addition to traditional services we provide a comprehensive menu of extra services from windows and blinds to light maintenance in and around your location.
We hope this brief introduction will encourage you to set an opportunity to schedule a time for us to meet with you about the full scope of our services.  We are confident that we can be of service to your business.
Contact Information
520, Hancock Avenue, Vandergrift Heights, Vandergrift, Westmoreland County, Pennsylvania, 15690, United States of America
Website (include the https:// or http://)